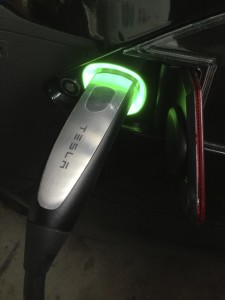 A mini fact: So far the average charge time for the car has been about 2 hours for a normal day to work and back. If I drive more conservatively someday perhaps that time will come down (unlikely anytime soon). In the photo, the surface that looks like a button is indeed one. When you push this the little flap, that is part of the running lights, pops open. Push the plug into the car and the green ring will light up. Pulsing slowly or quickly depending upon the current battery level. Press the button again to pull out the plug. All of that will only work if you have the key fob with you. I tried to remove the plug when the key fob was in the house and it would not unlock/come out. Also, the car can detect the plug is in and will not let you drive off. Good thing for those (not yet fully) caffeinated early morning departures. I am not keen to look at the PG&E bill but will do so shortly to see how we are doing in that regard.
On a slightly different note today all driving about has been electric. A gas-free day today. I'll maybe start tracking the car and bike usage (all cars and bikes). When the cars are used to do anything that counts and if the bikes are used to do anything useful other than exercise that will count. In a gas-free world, I'd take my electric bike to work while the rest of the day's outings would be in the Tesla. A fully electric day. Half and half would be we use 1 gas and one electric. Full gas would be we used no electric. There will be the odd day we don't go any place at all. I should probably track this on a Google sheet.
Lastly will be doing the daily cash costs of gas vs electric from the simple fueling only perspective. I am certain if I use all the gas items from the CC bills over the last year and the electric bills there should be some way to see how much money shifted to electric and if there are any savings at this level. That's data collection so someday soon again.