Today I thought of EvRA; "Electric Vehicle Range Anxiety".  I made this up (maybe someone else has already). Honestly, I had this on day one.  The very first day.  It did continue to linger for a while but it never seems to really enter my thoughts now.  What was it like way back in the day when there was no such thing as a Gas station.  I guess you could always get a tow from a horse right?  Those crazy horseless carriages! Well, it's not so crazy anymore.  We have electricity in more places than we have cell phone service.  Think about it.  We have electricity in many more places than we have gas stations.
Ok, allright – you still need to plan your day or your trip if you will be exceeding your range. Charging an EV takes time [but maybe not – keep reading].  Some are not yet suitable for long trips at all.  We know this, it's not a surprise to anyone.  If you only drive on a road trip once in a while you can borrow or rent a vehicle with a greater range – someday a larger electric and for now probably a gas or hybrid vehicle.  I don't see the big deal.  If your driving habits don't fit within the range or time parameters that an electric vehicle can offer then you are not in a position to find them very practical at this time.  That's a no-brainer choice today.
What about a two-car family  Here the second car could easily be a gas, hybrid or some longer range variation.  I am not a huge fan of this suggestion but it will help increase the EV population and there was probably two cars in the driveway already anyhow (in such situations).  [full disclosure – no I did not sell my other car when I bought the EV and we don't have a hybrid either.  Three cars, with the two gas ones mostly unused – I can sleep at night.]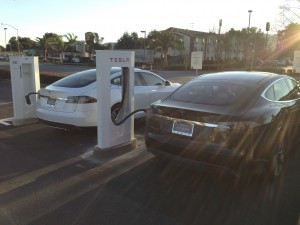 Tesla is building a future.  The one where the time to charge is very much a practical rest stop on a long trip.  They've produced a car that does not really need a charge up during the day (for most people's habits).  The supercharger stations take care of the long haul trips.  If they execute on plan the entire populated region of the US will probably be available to you without EvRA.  Others are trying to take EvRA completely out of the equation too.  I just can't get enough of this company and how it is executing on an amazing promise – unlimited range: http://www.betterplace.com/How-it-Works/switchable-batteries.  My only wish is that an American car company would step up to the plate here (Ford are you listening?).  It looks in the pictures like the battery _may_ be or I hope becomes swappable.  These are nonconflicting ideas – fast charging and battery swapping.
Someday, in the future, you will find it more and more difficult to find a gas station.  At some point, long distance trips in a gas car will require a significant amount of planning.
Someday, in the future, the same EV I have today will get a new battery with 4x the range it has today.
Someday in the future, you will find this blog posting and sigh "those were the days of gas cars kids".